History of the Ingram Fire Department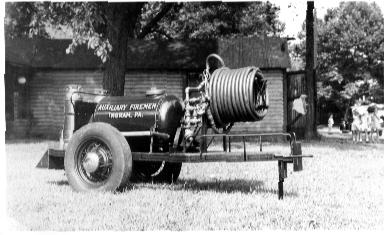 On October 16, 1906 by the Ingram Borough Council first approved plans for the formation of the Ingram Volunteer Fire Department for the protection of the borough. The council elected F. E. Miller as the first Fire Chief. Ira Gribben was elected the first President of the department. By laws were formalized and fire fighting officers were elected. Within a week the department had a complete roster of officers and thirty-two charter members.
The original fire-fighting equipment consisted of two hand-drawn hose reels, which were stored at Daugherty's Livery Stable on Foster Ave. and 1500 feet of fire hose. There were eleven hydrants in the borough which were rented from the Chartiers Valley Water Company at a cost of $20.00 per year for the first five years. Fire extinguishers were also placed at five different locations in the borough. The Ingram school house bell was used to sound the alarm. In October 1908 the new fire department purchased 24 fire coats, boots, and aluminum fire hats for a total of $287.62.
In 1908 a second fire company was added and in 1911 a third company on Middletown Road. As time progressed, the fire department established certain by-laws and working plans to conform to changing conditions.
In the years since it has been established, the Fire Department has had many different Chiefs, each with his own unique abilities. Progressively, new equipment has been purchased and the fire-fighting abilities of the men has increased.
The Ingram fireman's Association was formed on March 8, 1916 and has the responsibility of the non-fire fighting aspects of the Department. The Association building and Company 3 firehouse were built by men of the department with financial help from the Borough. The Association has sponsored many community groups and events including: a Brownie Troop, a Cub Scout Troop, a baseball team, the C.I.T. and the annual Halloween Parade. They also conduct fire safety and prevention programs. The Association conducts fund drives and community events to raise money for equipment.
The spirit of the original Fire Department continues today although Borough conditions have changed many times over the years. We appreciate all the efforts of the Ingram Fire Department to keep our community safe.
INGRAM FIRE CHIEFS
1906-1908 F. E. Miller
1908-1910 John Holmes
1910-1913 Ira Gribben
1913-1913 J. P. Coleman
1913-1915 A.V.Crawford
1915-1925 W .E. Creviston
1926-1926 H. W. Seigfried
1927-1930 A. V. Crawford
1931-1931 W. E. Creviston
1932-1935 F. A. Aiken
1936-1961 F. G. Kadel
1962-1969 J. F. Sacco
1970-1973 G. D. Snyder
1974-1977 C. B. Browning
1978-1983 R. N. Depp
1984-1987 C. B. Browning
1988-1989 Tom Berkhouse
1989-1990 Ramond Cato
1990-19-- Roy McGee